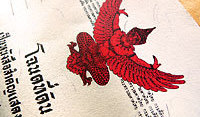 There are 5-types of land title commonly used in Thailand.
This ownership by a person has both a title-deed, and the corresponding documents concerning the land… and has much more value than land without such paperwork.
-Chanote Nor Sor 4 – this is a full title deed. A Chanote is the only true title deed, the land has been properly surveyed & GPS plotted as it relates to the national survey grid, with special & specific numbered-markers set into the ground. Chanote title land is normally found in the larger-developed, and oldest-developed areas of Thailand, such as all of Bangkok, and parts of Phuket Island.
Both the Nor Sor Sam Gor, and also the Nor Sor Sam, show on the title the person who has the right to the land and the right to the benefits as the owner. Both can also be registered as a sale or a lease, and can apply and obtain approval to build upon the land.
-Nor Sor 3 Gor – this is next to the best title, and is issued when the land is awaiting measurement for a Chanote title deed. This is not a deed, it is a legal certificate. An aerial-survey has been done to set the points and the land area and it is possible to verify a nearby land area. It is possible to subdivide the land into smaller plots.
-Nor Sor 3 – is ownership of the land, however, the land-boundary is not as specific, as the full-title deed Chanote. It is a legal document, with a 'floating-map' and no 'parcel-points'. Possession has not been confirmed, and all legal-actions must be published for 30 days, allowing others to contest the right-to-use. Because the land is not accurately surveyed, it could cause the owner problems when verifying the exact land area. The following titles allow the 'right-of-possession' so you use the 'benefit' of the land and the 'right' to possess the land under the commercial and the civil code.
-Sor Kor Nung – is a notification form that you are in the possession of the land, however no rights are confirmed by the land department, however, the land may be transferred to another person without another notification form being issued, and is passed-on through an inheritance.
-Nor Sor Song – is a consent letter issued by the land department to the holder. Temporary occupancy and use are allowed. It may not be sold or transferred except for Inheritance.